113 Main Street, Clifton, TN 38425 
(931) 614-0000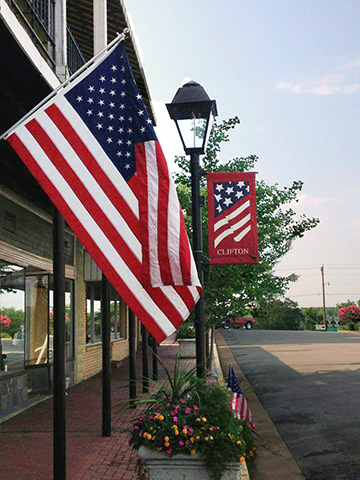 Welcome to Clifton, Tennessee
Greater Clifton Chamber of Commerce
and Visitor Center
The Greater Clifton Chamber of Commerce has focused on supporting and promoting our local businesses as well as attracting new business into our area since opening its doors on August 24, 2017. By supporting our local businesses, as well as attracting new business, we promote tourism and retirement living in our area. The chamber is committed to helping businesses in the greater Clifton area build a strong community relationship and enhance the quality of life for our citizens. We celebrate the achievements in our area – both with our citizens and our businesses.
Please download our membership application below, fill it out and contact us. We welcome all new businesses and even Chamber supporters and volunteers.
START AT our WELCOME CENTER
Plan Your Visit to Clifton
Clifton Marina & RV Park
Located within the city limits, lies a full-service marina and RV park. The Clifton Marina sells both ethanol and diesel gasoline. It has 74 boat slips, available for rent year-round.  The Marina has transient boat parking available and can accomodate boats up to 100 feet in length. It offers 50-amp electrical hookups and boasts a 5 ' foot draft during the summer. For travelers needing a little something extra, Clifton Marina offers a concierge/grocery service which you can arrange through the main office. It also offers a courtesy car, should you need to drive into town.
Business hours

Sun - Thur  8:00 am to 7:00 pm
Fri - Sat  8:00 am to 11:30-ish

call us

(931)  676-5225

address

111 Harbor Dr., Clifton TN 38425.

email

This email address is being protected from spambots. You need JavaScript enabled to view it.
facebook

Follow us

book now!
Why choose Us
Highlights of Our Local Business

Diamond in the Rough
Clifton is the best kept secret on the Tennessee River, we invite you to enjoy our piece of heaven.

Grow your Business
Considering opening a new business for a trade, a shop for food, gift shop for tourism?  Ask us to help!

Highlighting Your Business
The job of the Chamber of Commerce is to help promote your business and drive traffic your way.

Prominence in Print
Brochures and web presence highlights our members and each business' commitment to the community.

Green and Blue Clean Environment
By becoming a member of Tennessee RiverLine 652, Clifton is stating its committment to the cleanliness of the river, which translates to more visitors.

A Community That Cares
We care about our homes, and when we invite you to visit us, we care that you have a great experience so you will want to come back again.
developing the tennessee river in clifton
Centrally Located
Located in Southern Middle Tennessee, we are in the center of Nashville and Memphis, and we have our own airport if you fly in privately.  But don't forget you can boat in on the beautiful Tennessee River.  
NASHVILLE, TN

111  miles

LAWRENCEBURG AMISH

39 miles

SHILOH NATIONAL PARK

29.5 miles

SAVANNAH, TN

20.4 miles

PICKWICK DAM AREA

30.2 miles
FLY IN, DRIVE IN, BOAT IN OR SWIM HERE
Lodging and Dining
the River works for clifton and you!
Time has stood still.
Greater Clifton Area
Chamber of Commerce
Diverse and talented workforce has helped to grow our capabilities.
Address

113 Main St., Clifton, Tennessee 38425

Phone

+ 1 931-614-0000

Mail

This email address is being protected from spambots. You need JavaScript enabled to view it.

Web
Have a question??? Send us a message.